IGP (International Utility Dog Trials)
IGP is an acronym for "Internationale Gebrauchshunde Prüfungsordnung", a German name meaning "International Working Dog Trial Regulations", formerly also known as "IPO" and "Schutzhund" ("protection dog" in German). "Schutzhund" evolved over 110 years ago in Europe as a way of testing German Shepherd dogs for their suitability for use in breeding programs.

Today, all working breeds train and compete in IGP, a sport regulated by the FCI through its Utility Dogs commission, that maintains the International Utility Dog Trials rules and regulations.






IGP focuses on developing and evaluating dogs of all breeds for traits such as a strong desire to work, courage, intelligence, trainability, a strong bond to the handler, perseverance and protective instincts. It also tests for physical traits such as strength, endurance, agility, and scenting ability.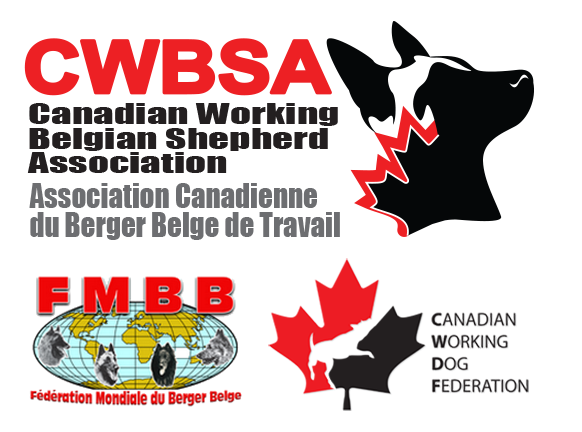 IGP for Belgian Shepherds in Canada is handled by our member club, the Canadian Working Belgian Shepherd Association (CWBSA).

CWBSA-affiliated local clubs train in the sport of IGP and host trials, per the rules and regulations of the FCI.
Through these club trials and the yearly all-breed national IGP championship organized by the Canadian Working Dog Federation (CWDF), Canadians BSD trainers get a  chance to get selected to represent Canada at the FMBB IGP World Championship and at the FCI All-breed IGP World Championship.
The Canadian All-breed IGP National Championship is organized yearly on the third weekend of June. 
For more information on the Canadian Working Belgian Shepherd Association, visit
http://www.cwbsa.ca

The goal of IGP is to illuminate the character and ability of a dog through training. Breeders can use this insight to determine how and whether to use the dog in producing the next generation of working dogs.

This working dog sport offers an opportunity for dog owners to train their dog, achieve titles, and compete with each other for recognition of both the handler's ability to train and the dog's ability to perform as required. It is a sport enjoyed by persons of varied professions, who join together in a camaraderie born of their common interest in working with their dogs. Persons of all ages and conditions of life, even those with significant disabilities, enjoy IGP as a sport.


High energy dog breeds such as the Belgian Shepherd Dog also find fulfillment in this sport that makes them happier companions to their owners.